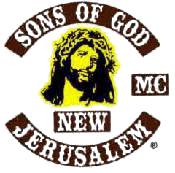 Bible Study!
"Sons of God MC ©"
1st. & 3rd Tuesday's we meet at 7:30
First and third Tuesdays bible study is @ 7:30 PM. and is open to the general public.
Everyone is welcome and encouraged to attend. Everyone (including you) is welcome.
Second and fourth Tuesdays are club meetings.
The meetings are always opened with a brief bible study and devotional. That part is open to the public. After the devotional, the meeting commences and it is closed to the public.